SteamPunk Magazine hat gerade ihre 5 Ausgabe veröffentlicht.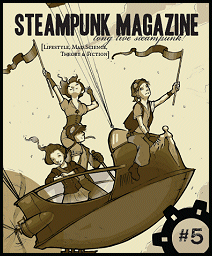 Man kann sich diese und die anderen Ausgaben auf deren Download-Seite herunterladen, zusammen mit dem informativen "Steampunk's Guide to the Apocalypse".
Für diejenigen, die nicht wissen, was es sich mit Steampunk auf sich hat: Stellt euch ein Science-Fiction-Szenario vor, in dem Maschinen nicht auf Elektronik, sondern auf Dampf-Technologie basieren. Ähnlich den Geschichten von Jules Vernes.
Auf jeden Fall interessant und es schadet ja auch nicht, ein wenig auf die Apokalypse vorbereitet zu sein.
[via make]